The taskbar is a part of the operating system which is located at the bottom of the screen. It allows you to locate and Run new programs through the start button and start menu. Taskbar shows any program which is currently running. On the right side of the taskbar, there is a notification area that allows you to check the date and time. On the right side, it also shows the programs that are running in the background.
The taskbar first introduced in Microsoft Windows 95 and now it available in all the versions of windows that come after Windows 95. The taskbar is moveable and can be hidden, its default position is the bottom of the screen, but it can be move on the left, right, and top of the screen. It can be set to auto-hide and can be locked at the place where it is.
You can switch easily to other programs through the taskbar when programs are running simultaneously.  The icon in the taskbar of running programs helps to switch between the programs. These icons work as toggle buttons to switch to other programs. In the windows taskbar, similar running programs are grouped together. The taskbar has four main sections:
Start Button (Labeled with "windows logo" and "start" )
Quick Launch (Allow you to launch the program with a single click)
Running Programs (Allow to easy access, switch, minimize or maximize running programs)
Notification Area (Show date and time, a small icon of running programs in the background, and it also contain volume control button)
How To Move Taskbar In Windows 10?
The taskbar can move from taskbar settings and there is another easy way to move the taskbar by clicking on the taskbar and dragging it where you want to place it on your screen. Now in this article, we can explain to you that how to move the taskbar from taskbar settings.
Step 1:
Right click on windows taskbar to open taskbar menu.
Step 2: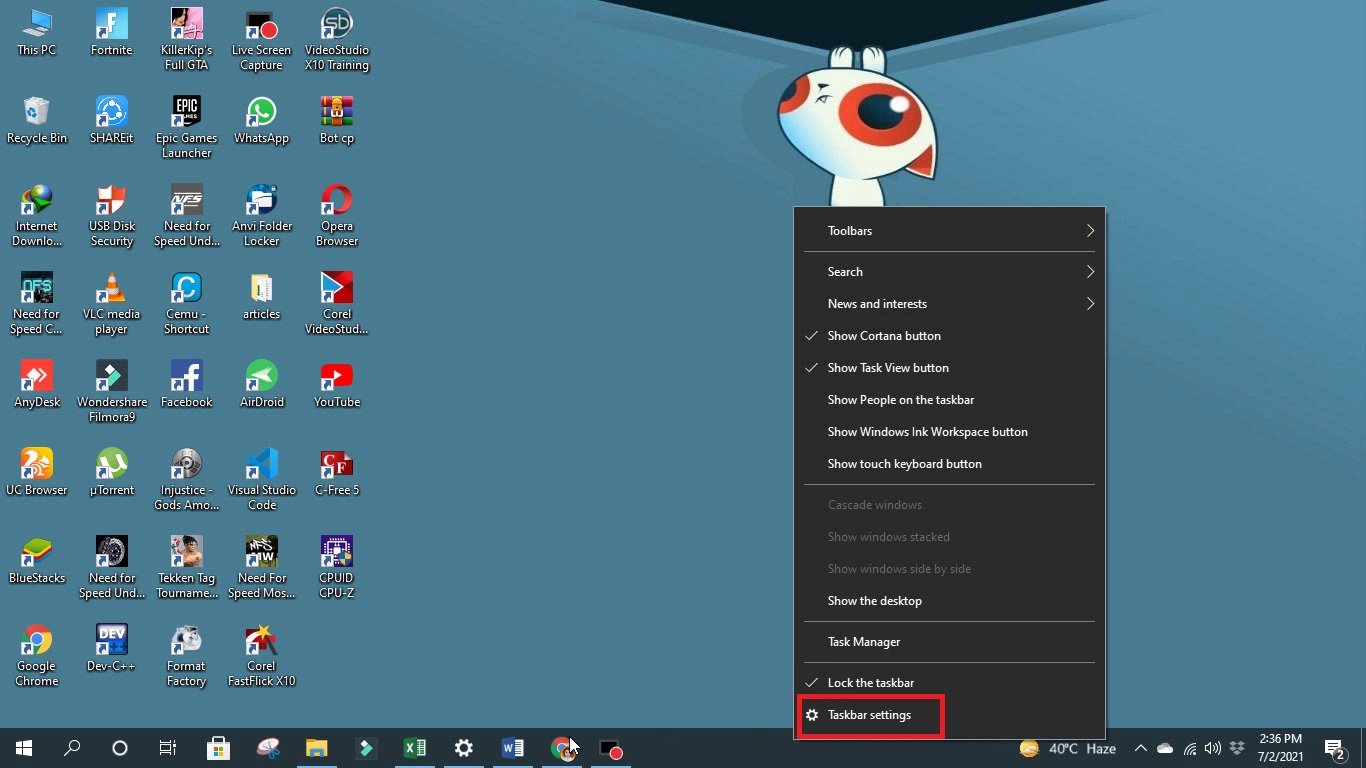 In the taskbar menu, click on taskbar settings it will open settings windows in front of you.
Step 3:
After opening taskbar settings, scroll down to Taskbar Location on Screen.
Step 4:
Click on Taskbar Location on Screen, a dropdown menu will be opened which shows the four options where you can move your Windows 10 taskbar.
Step 5:
You can select the location where you want to place your taskbar. You have these four options left, right, top, and bottom where you can move your taskbar.